Hey everyone,
Welcome back to my blog. First business of the day is to choose a winner of the Sock Monster giveaway. I was impressed by the things you came up with, and it has made it hard for me to choose the one that appealed to me most. However, after much deliberation I am going to choose the one that I would never have thought of in a million years. To the lady who uses odd socks to clean up after her dog, I award $10.00 to spend in my store. I will be emailing her after I finish posting this update. To the rest of you who took part, thank you for playing. :))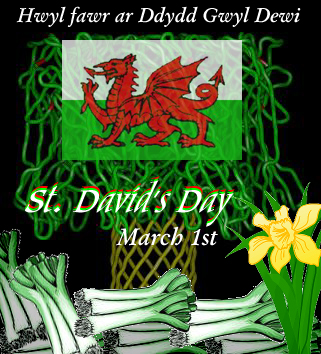 Tomorrow is St. David's day and I will be wearing my Daffodil to mark the day.
There are many beautiful flowers in Wales but the yellow daffodil, associated with St. David, is the Welsh national flower.
I am half Welsh and I like to think of my Welsh half as my better half, or my singing half.
St David's Day, as celebrated today, dates back to 1120, when Dewi (David) was canonised by Pope Callactus the Second, and March 1st was included in the Church calendar.
Each year, throughout the world, wherever Welsh families can foregather, St. David's death is commemorated on March 1st. St. David is the Patron Saint of Wales.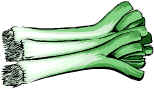 THE STORY OF THE LEEK
While most of the ladies wear Daffodils on St David's Day, a lot of men prefer to wear leeks. Leeks were revered by the ancient Egyptians as a symbol of the universe and prized by the Romans as an emblem of virtue, the Leek reached its true apotheosis in Wales. Celebrated as one of its national emblems, the Leek is worn by the Welsh Guards and the Prince of Wales. In the Battle of Heathfield in the 7th century, Welsh troops wore Leeks in their helmets to distinguish them from their enemies.
Happy St. David's Day to all my Welsh brothers and sisters worldwide!
Well I have spent most of this week working on accounts, getting ready for the old tax return, but I have managed to make a few pairs of earrings and some stretchy kids bracelets for the Trading Post. I beaded some prayer feathers and have also started a peyote hat band. What have you guys been working on?
You want to be good and help save the planet, but you keep forgetting to take your bag with you to the grocery store. Hey, stuff happens. So what do you do with those plastic bags you are collecting in the drawer. Any bags we end up with we recycle through our Trading Post, or use in place of trash bags. We don't throw any of them away. We recycle boxes, packing peanuts, bubble wrap. We try not to throw away stuff that can be used again. What do you do with your bags etc.? Leave me a comment, I'd like to know. :))